Timewell Drainage Products and Farm Progress Show are pleased to announce an exclusive partnership to perform tiling demonstrations at the Boone, Iowa show site starting at the 65th annual event August 28-30, 2018. Farm Progress Show is the largest outdoor farm event in the nation featuring 600 exhibitors and average attendance of more than 100,000 people in 46 states.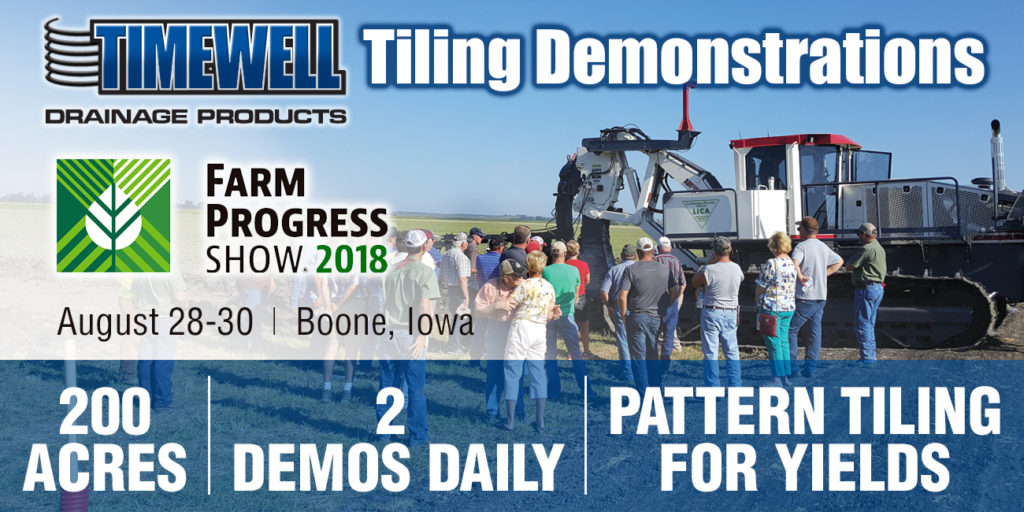 Tiling demonstrations will take place at noon each day of the three day event, weather permitting. This is a six year, three show project that will substantially drain 200 acres at the permanent bi-annual location in Boone and help prepare it to handle possible weather impacts.
"Timewell is honored to bring tile demonstrations to the 2018 Farm Progress Show and showcase drainage water management to such a substantial audience," said Aaron Kassing, VP of marketing for Timewell Drainage Products. "These demonstrations will put tile drainage on an international stage, showing first-hand one of the best investments for sustainable, production agriculture."
Tile installation will be conducted by qualified Iowa drainage contractors who are members of Iowa Land Improvement Contractors Association (LICA). Contractors installing in 2018 include:
Berhow & Dornbier Drainage & Excavation in Wesley, IA
Hayes Brothers in Dike, IA
Hol Drainage, Inc in Oskaloosa, IA
Klima Drainage & Land Improvement in Center Point, IA
Leffler Dirtworks in Oskaloosa, IA
Quality Drainage Solutions in Sac City, IA
Timewell, Farm Progress and the six drainage contractors are working in partnership with the host farmers and Central Iowa Expo to make these demonstrations possible. For more information, visit timewellpipe.com/tilingdemonstrations or connect with us on Facebook and Twitter.